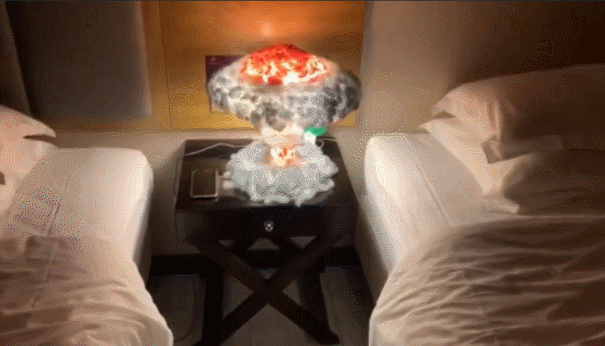 The products you receive are the same as those shown in the video, so you don't need to worry.
90-DAY MONEY BACK GUARANTEE
Handmade diorama decorative model of nuclear explosion effect.
Need a gift? Or just want the coolest nightlight ever? Get the Nuclear Explosion Mushroom Cloud Lamp on today!
Light up your house with a nuclear explosion! The nuke lamp is a unique table top light that is shaped after the explosion seen from a nuclear bomb detonation. Designed using fluid dynamic simulations to create the shape, this unique lamp will be an instant conversation piece.
It is more a model than a night lamp, Take a good look and you'll see this is really the closest you'll ever want to be to such an intense burst of energy.
Nothing grabs the attention of the average person like an unexpected nuclear explosion can. And now you can decorate your home with your very own miniature mushroom cloud lamp. 
About the Product:
Unique appearance: The unique mushroom cloud explosion shape imitating the atomic bomb explosion model is deeply loved by people. It is the best gift for children.
Eye protection: 160 LED eye protection beads, warm light. Adjustable height: The lamp body can be adjusted freely, easy to carry.
Applicable scene: Suitable for bedroom, living room, children's room, corridor, study room decoration, eye protection lamp, also suitable for night reading.
Lamp body size: 260MM × 300MM, wattage: 5W
After-sales service: If you have any questions, please send us a free email within 24 hours, we will be happy to solve the problem for you!
HOW LONG DOES IT TAKE TO RECEIVE MY PRODUCT?
Receiving time=processing time+shipping time. Generally, the processing time is 10~20 days. The shipping time is 5-25 days by shipping way you selected. International shipping times vary based on the destination.
CAN I CHANGE THE DESTINATION COUNTRY OF MY ORDER?
After your order has been sent out, you may not change your shipping address.
SHIPPING FEE AND SHIPPING TIME:
We provide Free Shipping for orders over $89 Worldwide.
There are several logistics methods:
Super Saving:22-25 Business Days (excluding processing time). Shipping Fee: $13.99
Standard Shipping: 7-15 Business Days (excluding processing time). Shipping Fee: $19.99
Expedited Shipping:(Applicable only in the United States): 5-8 Business Days (excluding processing time). Shipping Fee: $26.99
HOW WILL I KNOW MY ORDER HAS SHIPPED?
You will receive a shipping confirmation email once your order is ready to ship. Please note that orders may take up to 5 business days to process before they are shipped due to customized work involved. Once you have received this email please allow 24-48 hours for your tracking number to update with USPS.
Please keep in mind delivery dates may change due to inclement weather conditions or holidays.
DO YOU SHIP INTERNATIONALLY?
International shipping is available currently.
NOTE: All prices on our site are USD. Once you complete your transaction, it will charge your card in your respective currency.

PLEASE NOTE:
If your personalized product was remade, your order might be delayed. Only those items that passed the quality inspection process can be sent out, with our standards and aim to supply you a perfect gift.
At this time, we do not ship to APO/FPO addresses or college dorms. Shipments to Alaska, Hawaii, or Puerto Rico may exceed normal delivery time.
Expedited shipping is not offered to P.O. Box shipping addresses.
We do not offer overnight shipping.

If you have any questions, please feel free to contact us via email: [email protected]