Moon Night Lamp with Wooden Stand - Charging cable.Now you can have a mini moon as your night lamp!Hold the Magic of the Universe in your hand any time you wish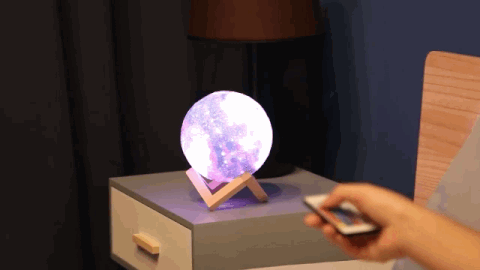 The Moon Night Lamp is the perfect gift for any astronomy lover/fans. Our resin casting Moon night lamp is so detailed that it even features the craters of the Moon. This Universe Theme Night Lamp is 15cm in diameter and bed by LED lighting color. Three colors by touching. The nocturnal lamp operates by touching the detector / button at the bottom of the lamp, to change colour support several times. Seven colors by touching, or sixteen colors with the remote control. You can hold this lamp in your hands or put it on the wooden stand, whichever made you best-It is powered by rechargeable battery, so no more hassle of buying batteries!
Surprise him/her with this night lamp Our Moon Night Lamp makes an amazing and unique Gift for any season.
Charging cable with USB port and wooden stand are included in the package
Specifications:
Material: PLA
Wattage: 0.5W
Brightness: stepless adjustment,long press the switch to change the brightness
Color temperature: 3000K / 6000K
Bulb: 1pcs white LED light and 1pcs yellow LED light
Battery capacity: 1 x 240mAh li-po battery (built-in)
Charging time: 6 - 8 hours
Working time: 8 - 30 hours (depends on brightness)
Power supply: USB DC 5V