Love is a lot easier to profess when you have got a moon lamp as your wingman. With Magic Lunar's customized moon lamp, you can keep your love and other happy memories literally illuminated for some long time to come. There is no better way to keep the fire of love burning!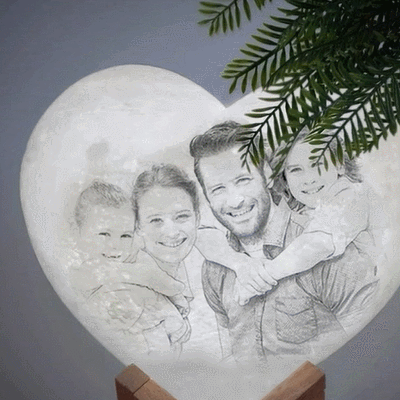 Feature:
BRING THE MOON TO YOUR KID'S ROOM – Light your child's DORM or NURSERY with a SOOTHING glow. We listened to parents' opinions and have UPGRADED THE BATTERY to last up to 15 hours on one charge (more than a cell phone). You can leave it on the entire night if your little one is afraid of the dark. Simply comfort them with our kid-friendly & soft glowing moon.
CONVENIENT TOUCH & REMOTE CONTROL allow you to choose between MUlTI COLORS of BRIGHTNESS. Our moon lamp will set the mood whether you want it cosy, romantic, peaceful or feel-good. Dim it "to bright enough to see around", but "not too bright to keep you from falling asleep".
MOONLIGHT AS A GIFT – If you're looking for a unique & practical present for the women in your life, this is one of those gifts they will ABSOLUTELY LOVE. Be it your mom, wife, sister or girlfriend, our moon lamp will jazz up their nightstand for sure! Ideal for birthday celebration, housewarming party or baby shower. Stand out with a gift that will have them singing "Fly me to the moon, let me play among the stars"!
Extra Tips:
1. I recommend 12CM or above if you want to print a photo on the moon lamp.
2. If you want to print a photo of more than 3 people, I recommend 15CM or above.
To get things going, just send us an image or loving words that you will love to have imprinted on the surface of the moon lamp, and our expert designers will have it emblazoned on the lamp. Magic Lunar customized moon lamps feature the most apt attention to details, a sturdy build and the best electrical fittings.
• Two colour options – switch between yellow and white lighting modes
• High performance – an optimum charge of 2 hours will yield 8 – 10 hours of working time.
• Long-lasting built-in 500mAh rechargeable battery
• Adjustable brightness
• Wooden Base - Sturdily built for durability
• Material: PLA
• Payment method: credit card or PayPal
• No need to pay customs
 How to buy products:
Select the size, fill in the customized text, upload the photo, and then click: ADD TO CART. When you reach the shopping cart page Click: CHECK OUT, and finally, fill in your contact information, select the payment method to complete the payment

Our Personalised moon lamp are the only ones on the market with a uni-body (single mold) design and is FCC, CE, and RoHS certified so you can rest assured that it's tested, approved, and 100% safe!
HOW LONG DOES IT TAKE TO RECEIVE MY PRODUCT?
Receiving time=processing time+shipping time. Generally, the processing time is 10~20 days. The shipping time is 5-25 days by shipping way you selected. International shipping times vary based on the destination.
CAN I CHANGE THE DESTINATION COUNTRY OF MY ORDER?
After your order has been sent out, you may not change your shipping address.
SHIPPING FEE AND SHIPPING TIME:
We provide Free Shipping for orders over $89 Worldwide.
There are several logistics methods:
Super Saving:22-25 Business Days (excluding processing time). Shipping Fee: $13.99
Standard Shipping: 7-15 Business Days (excluding processing time). Shipping Fee: $19.99
Expedited Shipping:(Applicable only in the United States): 5-8 Business Days (excluding processing time). Shipping Fee: $26.99
HOW WILL I KNOW MY ORDER HAS SHIPPED?
You will receive a shipping confirmation email once your order is ready to ship. Please note that orders may take up to 5 business days to process before they are shipped due to customized work involved. Once you have received this email please allow 24-48 hours for your tracking number to update with USPS.
Please keep in mind delivery dates may change due to inclement weather conditions or holidays.
DO YOU SHIP INTERNATIONALLY?
International shipping is available currently.
NOTE: All prices on our site are USD. Once you complete your transaction, it will charge your card in your respective currency.

PLEASE NOTE:
If your personalized product was remade, your order might be delayed. Only those items that passed the quality inspection process can be sent out, with our standards and aim to supply you a perfect gift.
At this time, we do not ship to APO/FPO addresses or college dorms. Shipments to Alaska, Hawaii, or Puerto Rico may exceed normal delivery time.
Expedited shipping is not offered to P.O. Box shipping addresses.
We do not offer overnight shipping.

If you have any questions, please feel free to contact us via email: [email protected]