When ordering more than 2 pillows, please follow the steps below:
1. Upload the 1st picture, choose the right size and click 'add to cart' 
2. Go back to the page for custom pet pillow.
3. Upload the 2nd picture and click 'add to cart' again.
Note: Only one pet on each pillow. Example photos don't turn out well:
Do You Ever Miss A Cherished Pet?
And now you can turn a cherished pet into a our 3D stunt double! If you miss a dearly departed pet, or if you travel for work, school or hospital visits, or if you want to give a pet lovin' friend or relative the most amazing present of all time - you're in the right place!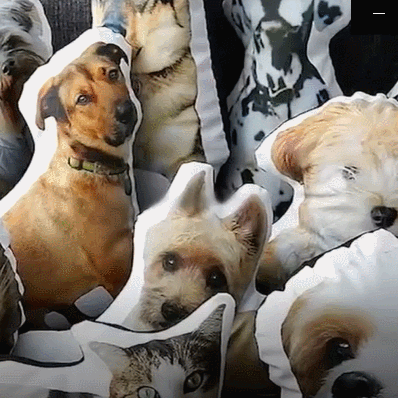 Feature:
Our Personalized Custom Pet 3D Pillows make the perfect gift for any Pet Lover. Each Pillow is hand-crafted and unique to your pet! Perfect Gift idea for Birthday, Christmas or as a Pet Loss / Pet Memorial Gift Idea.
Pillow covers are designed and handcrafted in our studio. Pillow cushions are constructed of super soft faux suede. Cushion cover closed, without possibility to take it off.
All prints are made by sublimation - printing using heat to transfer dye on fabric. This kind of print is durable, and will not peel or lose it's density after washing.
Ordering is super-easy:
Upload Your Pets Photo (or we can confirm that afterwards with you)
Choose Your Size & Quantity
Add To Cart & Buy (We accept PayPal & all major credit/debit cards)
We'll Confirm the design (mock-ups) with you before we create it. Your satisfaction is guaranteed
What Makes A GREAT Picture?
OUTDOOR LIGHT
We recommend pictures taken outside in broad daylight - this captures the fur colour best. If this isn't possible, avoid harsh camera flash light as this 'washes out' the colours. Likewise, too darker pictures can lack clarity
FULL BODY IN FRAME
Try and find a picture which has your pets full body in frame - paws, tails and all!
FAVOURITE PHOTO!
Failing all of that, go with a favourite picture! Something which captures your pets spirit and personality works brilliantly. There's no wrong answers, this is just a quick guide to help you get the best possible outcome. Our friendly team are here to help, and if we don't think your uploaded picture is perfect, we'll reach out to discuss it with you
WHY YOU NEED ONE
REMEMBER A LOST PET
The perfect keepsake to remember a cherished pet who crossed the rainbow bridge. Our pillow will never replace them, but will give you a cuddly reminder 
TIME AWAY FROM HOME
School, work, hospital visits, university and more can all take us away from dearly beloved pets. Cuddle a our pillow to fill a void
UNIQUE GIFT
Our handmade pillows make for incredibly unique gifts. You won't find these in the shopping mall! Perfect for pawrent friends and family
PILLOW FEATURES
Any Pet Can Have A Stunt Double!
We can turn any pet into a custom! We have made cats, dogs, rabbits, fish, lizards, hamsters, snakes and many more pets into custom pillows. If you own it, we'll bet you we can make it!
Removable Covers
Our super squishy pillows come with a removable pillow case, accessed via a concealed zipper - making maintenance a walk in the park. Woof!
NO FUR OR POOP ON THE BED!
We love our pets, but sometimes there isn't room on the bed for a furfriend (especially if they drop fur or worse!). Avoid the noxious gas with a SFC pillow!
Our Unique Happiness Guarantee 
We're incredibly proud of the craftsmanship which goes into our 3D pillows, and our thousands of happy customers stand as testament to it. Many of you trust us to create special pillows to remember lost friends and we take our job very seriously.