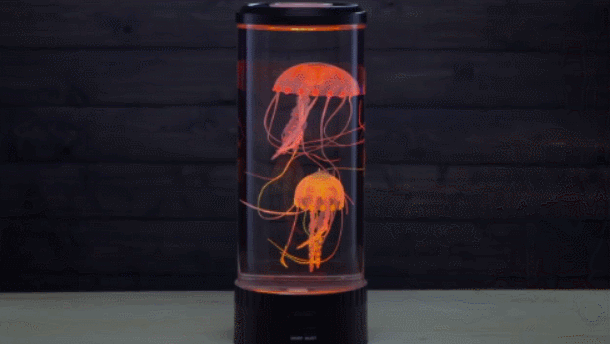 Aquariums bring ocean creatures into your home as a focal point of relaxation and interest.
The Large Jellyfish Lamp, like its smaller counterpart, provides the same calming movement of oceanographic organisms without the actual upkeep of a live animal. While these jellies aren't truly alive, their lifelike quality can still mesmerize and lull you into a state of relaxation with their lifelike movements.
Enjoy the tranquility of a saltwater aquarium at the touch of a button.
This Large Jellyfish Lamp is a cylindrical aquarium that contains two lifelike jellyfish that float, bob, and undulate their tentacles with the current of the tank.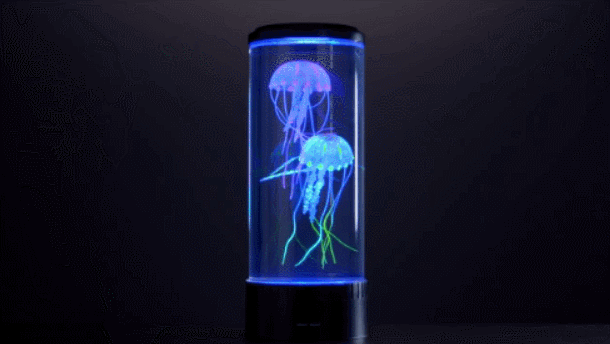 The spectacle is illuminated by 18 LEDs that enhance the display with a selection of five different colors or an automatically transitioning mode.
For people who like: animalsartdesk accessoriesgifts for the person who has everythingjumbo stuffoffice toyspetsrelaxation
Cnidaria in color
The translucent jellyfish in this cylindrical tank are underlit by an array of LED lights that can illuminate in five different hues.
Select your favorite color or choose a fade-through mode to enjoy an endless cycle of swimming jellies and changing colors.
Awesome aquarium
Standing over a foot tall, the Large Jellyfish Lamp is distinctive decor without obligation. It's obviously impressive with two lifelike jellyfish, six color modes, and a quiet motor to keep everything moving.
And the freedom from the responsibility of caring for living marine life is equally impressive and relaxing.
Features & specs
Cylindrical water tank with 2 realistic-looking jellyfish
Jellyfish move according to current
Illuminated with 18 LEDs: red, blue, green, pink, yellow, and a fade-through mode
Auto-shutoff after 4 hours
Tank wall material: plastic
Note: these are not living jellyfish; they are soft plastic replicas with realistic movements.
Dimensions: 13.75" height x 5.25" diameter (34.9 cm x 13.3 cm)
Frequently Asked Questions
Q: What kind of maintenance is required?
A: The Large Jellyfish Lamp is practically maintenance-free, aside from adding a small amount of dish soap to your water in order to inhibit bacterial growth.
Q: What are the jellyfish made of?
A: The jellyfish are made of a soft, flexible plastic that's durable enough to last but delicate enough to move through the tank with a lifelike undulation.
Q: How much bigger is the large jellyfish tank than the normal sized one
A: This tank is nearly 4x larger than the smaller one. We list the exact dimensions at the top of their respective pages.
Q: Does it ever get tangled?
A: No, the jellyfish will not become entangled.
Q: Do you need to add soap regularly or is it just a one-time thing? Thanks!
A: You only have to add a tiny amount of soap every time your refill the tank. You do not have to do it regularly.
Q: When it says ''and a quiet motor to keep everything moving'' how quiet is it?
A: Quiet enough to not be distracting. It only produces a faint humming sound.
Q: Is it ok to use distilled water or spring water?
A: That should be alright. Unnecessary, but alright.
Q: What's its total weight, including packaging?
A: Approximately 35 ounces.
Q: My jellyfish just float at the top and not sink after I changed the water. Anythoughts
A: Don't forget to add a few drops of soap as recommended by the instructions. This will help keep the water pump clean and operating at maximum efficiency.
Q: Do you add water or does it come with water already in it. I am carrying overseas for someone so no water in shipment woudl be easier.
A: You add the water once it arrives.
Q: Can I put the Jellyfishes into My Fish Tank/Aquarium rather than the lamp itself?
A: You can, but they won't move on their own if they're put into a different tank.
Q: How does it work? Please don't answer "Magic". When you put it in a video, please make it a tear-down of this thing.
A: A tiny pump circulates a jet of water that scoots the plastic jellyfish around their tank.
HOW LONG DOES IT TAKE TO RECEIVE MY PRODUCT?
Receiving time=processing time+shipping time. Generally, the processing time is 10~20 days. The shipping time is 5-25 days by shipping way you selected. International shipping times vary based on the destination.
CAN I CHANGE THE DESTINATION COUNTRY OF MY ORDER?
After your order has been sent out, you may not change your shipping address.
SHIPPING FEE AND SHIPPING TIME:
We provide Free Shipping for orders over $89 Worldwide.
There are several logistics methods:
Super Saving:22-25 Business Days (excluding processing time). Shipping Fee: $13.99
Standard Shipping: 7-15 Business Days (excluding processing time). Shipping Fee: $19.99
Expedited Shipping:(Applicable only in the United States): 5-8 Business Days (excluding processing time). Shipping Fee: $26.99
HOW WILL I KNOW MY ORDER HAS SHIPPED?
You will receive a shipping confirmation email once your order is ready to ship. Please note that orders may take up to 5 business days to process before they are shipped due to customized work involved. Once you have received this email please allow 24-48 hours for your tracking number to update with USPS.
Please keep in mind delivery dates may change due to inclement weather conditions or holidays.
DO YOU SHIP INTERNATIONALLY?
International shipping is available currently.
NOTE: All prices on our site are USD. Once you complete your transaction, it will charge your card in your respective currency.

PLEASE NOTE:
If your personalized product was remade, your order might be delayed. Only those items that passed the quality inspection process can be sent out, with our standards and aim to supply you a perfect gift.
At this time, we do not ship to APO/FPO addresses or college dorms. Shipments to Alaska, Hawaii, or Puerto Rico may exceed normal delivery time.
Expedited shipping is not offered to P.O. Box shipping addresses.
We do not offer overnight shipping.

If you have any questions, please feel free to contact us via email: [email protected]